News Briefs: Bernie Mac Hospitalized with Pneumonia
Posted on August 6, 2008 by Carl Hardin
<![if !vml]>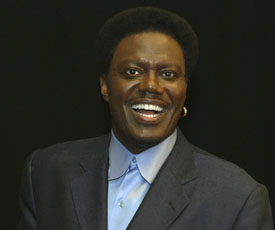 <![endif]> Comedian Bernie Mac is in a Chicago hospital recovering from pneumonia. Contrary to rumor, Mac is not dead. According to Danica Smith, his publicist, he is expected to make a full recovery. But, his publicist has asked that his, and his family's privacy be respected as he recovers.


According to Smith, Mac's hospitalization has nothing to do with his sarcoidosis, which he has battled for years, and has been in remission since 2005. Sarcoidosis is an immune system disorder that affects tens of thousands of Americans, and makes it hard to breathe. The cause of the disease is unknown.
Bernie has been receiving well wishes, gifts and notes from friends he has co-starred with in the movies he has made, including George Clooney, Don Cheadle, Matt Damon, Julia Roberts, Elliott Gould, and Brad Pitt and his new crew.
Other News
R. Kelly Goes Free!
Talk about it in our Forum!