Blog 10: Ben Jealous Wipes Egg From Face!
Posted on July 24, 2010 by Carl Hardin
<![if !vml]>

<![endif]>"Her actions were shameful" says NAACP National President, Ben Jealous, of African American US Department of Agriculture official Shirley Sherrod. It was a tremendous shock to Shirley Sherrod when she was fired with the support of NAACP national president Ben Jealous, who had watched deceptively edited Fox News and Tea Party video of Sherrod's speech at an NAACP dinner held several months earlier. Jealous fired off a strongly worded statement trashing Sherrod, along with the attendees of the NAACP dinner. A day later, Jealous wiped the omlet off his face and backpedaled like an acrobat on a unicycle, apologizing to Sherrod, after he discovered the truth about the tape he had watched.
Sakeithia Morris, one of the attendees of the dinner provided stong comments, "he couldn't of asked one of the 200 of us that were sittin' there listenin' to her speak, instead of buying into some right wing bootleg. It must've been a bootleg. Shirley Sherrod looked more like Shirley Hemphill (What's Happenin')".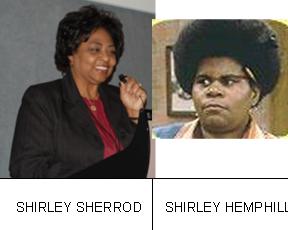 Ms. Morris became particularly enraged when she was informed that rather than seek out the perspective of the dinner participants, Jealous criticized them in his initial statement, saying "the reaction from many in the audience is disturbing", apparently referring to the smiles and applause he saw on the Fox tape. "Ain't that a bitch. He watched a 2 minute bootleg and thinks that qualifies him to question the judgement of hundreds of folks who saw the whole damn thing live and in person? Well, he can kiss my grits", says Morris.
"We were snookered by Fox News and Tea Party Activist Andrew Breitbart", says Jealous in his apology statement. He didn't elaborate on how he could have been fooled about something that had been said publicly at an NAACP dinner from several months earlier, that they had taped. According to Tyrone P. Owed co -founder of BTB (Brothers Trusting Brothers), Jealous' "first mistake was watching Fox. His next screw up was believing them. They didn't snooker him, he snookered himself. You pick up Playboy magazine, you expect to see naked women".
When asked if he were Ben Jealous how does he set this straight, Owed suggests that Jealous just needs to "blame it on the a-a-a-a-a-alcohol".
Rumor has it that Jealous also recently prohibited his daughter from going to the mall, because he was worried about the packs of negroes Mel Gibson warned him about.
In other related developments, Jealous' cat has alleged that Ben threw him out of the house after the dog accused him of eating the family's pot roast. "I was framed. I don't even like beef", complains Fluff. "Why would he freakin' believe the dog anyway? He's sitting up in the corner with gravy all over his paws, and Ben believes him? Whatever"!
Other Blogs:
Tiger Woods vs Elin
Ode to March Madness
Ode to Mothers
Ugly Duck has beauty
Obama to be President
Bernie Mac makes exit
Tiger Woods wins again!
Chris Brown vs Rihanna
Tiger Woods is Legend
Floating with Mohammad Ali