Bio: Tiger Woods
<![if !vml]>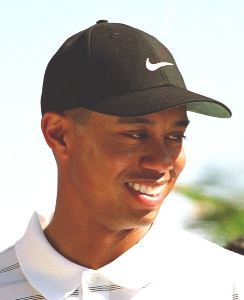 <![endif]>He is arguably the greatest golfer to ever play the game. At the age of 34, he has already surpassed all but two golfers in total PGA tour wins, and only trails Jack Nicklaus in total major wins. He is far and away the all time leading golfer in total PGA Tour earnings at more than $92 million. In December, 2009 Tiger was voted Athlete of the Decade for ten years of golfing dominance.
Born Eldrick Tont Woods in Cypress, California on December 30, 1975, Tiger Woods began golfing at a very early age. His father, Earl Woods was a United States Army lieutenant colonel, a Vietnam War veteran, and the first black baseball player in what was then the Big Seven Conference (currently the Big 12 Conference). His mother, Kultida Woods is of Thai descent, and met his father, while Earl was stationed in Thailand.
On his 21st birthday, Woods legally changed his name to Tiger, a nickname that came from a Vietnamese army buddy of his father. In 1996 at the age of 20 Tiger participated in his first PGA tour major, the Masters Tournament and was the only amateur to make the cut.
In 1997, at the young age of 21, Tiger Woods became the first golfer of African American heritage, as well as Asian American heritage, to win a PGA major event when he won the Masters tournament. He was also the youngest to ever win the Masters. He blistered the field, with a tournament record 18 under par performance.
He was the world's highest paid professional athlete in 2008, making an estimated $110 million in earnings and endorsements, most of which was endorsements.
Though most of his earnings come from endorsements, he also earns additional income from appearance fees from tournament sponsors anxious to get a boost from his participation. In November of 2009, for example, Tiger was paid $3 million to appear in the Australian Masters tournament. Tiger's appearance fee first hit the $2 million neighborhood around 2000 when he completed his grand slam. Appearance fees are only paid for international tournaments, and are prohibited on the PGA tour.
Other Blogs:
Ode to Mothers
Ugly Duck has beauty
Obama to be President
Bernie Mac makes exit
Tiger Woods wins again!
Chris Brown vs Rihanna
Tiger Woods is Legend
Floating with Mohammad Ali